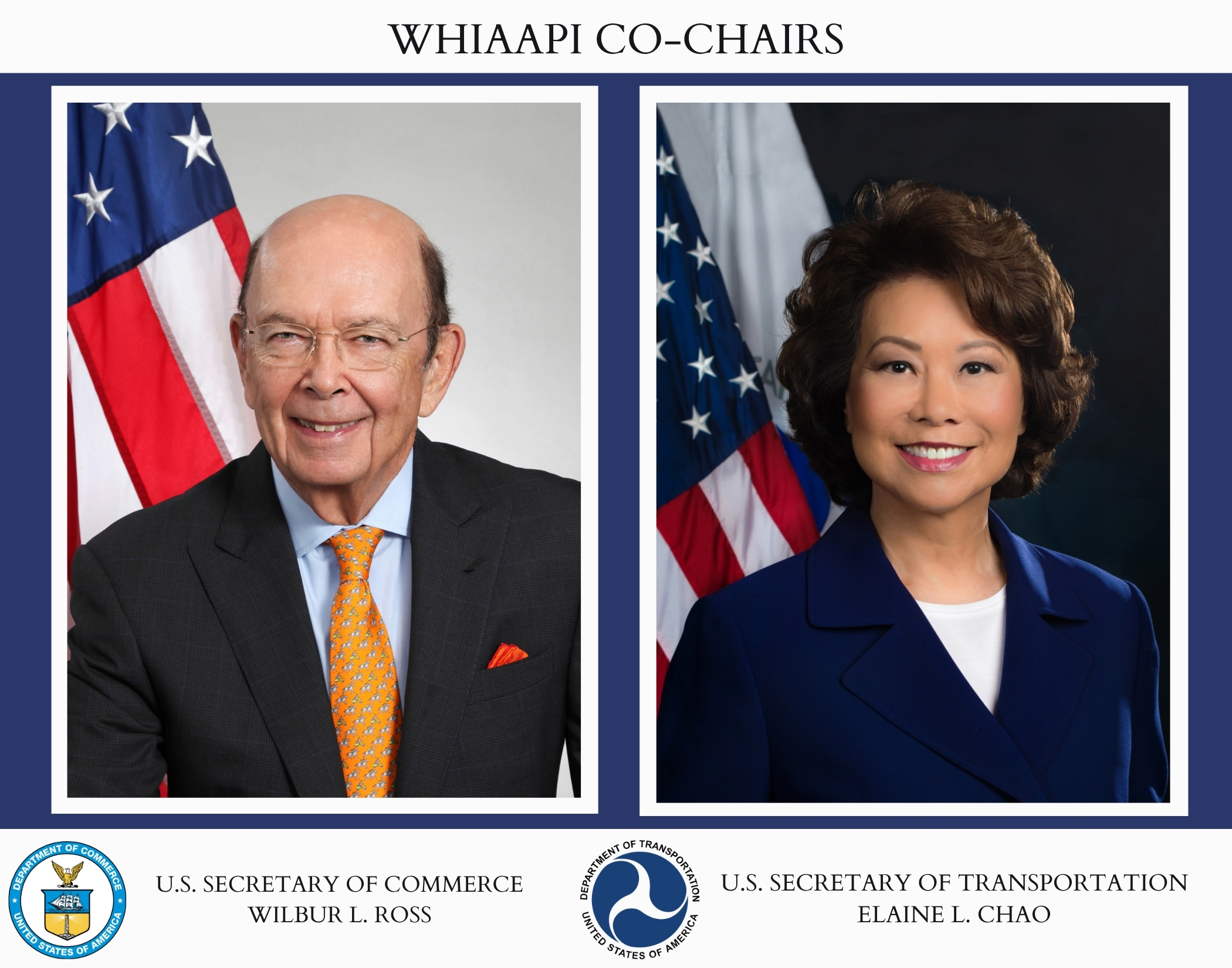 The Secretaries of Commerce and Transportation serve as the Co-Chairs of the Initiative and direct its work pursuant to the guidance and direction of the President.
U.S. Secretary of Commerce 

Secretary Wilbur L. Ross, Jr. was sworn in by Vice President Mike Pence as the 39th Secretary of Commerce on February 28, 2017. Secretary Ross is the principal voice of business in the Trump Administration, ensuring that U.S. entrepreneurs and businesses have the tools they need to create jobs and economic opportunity.
Secretary Ross is the former Chairman and Chief Strategy Officer of WL Ross & Co. LLC and has over 55 years of investment banking and private equity experience. He has restructured over $400 billion of assets in the airline, apparel, auto parts, banking, beverage, chemical, credit card, electric utility, food service, furniture, gypsum, homebuilding, insurance, marine transport, mortgage origination and servicing, oil and gas, railcar manufacturing and leasing, real estate, restaurant, shipyard, steel, textile and trucking industries.  Secretary Ross has been chairman or lead director of more than 100 companies operating in more than 20 different countries.
Named by Bloomberg Markets as one of the 50 most influential people in global finance, Secretary Ross is the only person elected to both the Private Equity Hall of Fame and the Turnaround Management Hall of Fame. He previously served as privatization adviser to New York City Mayor Rudy Giuliani and was appointed by President Bill Clinton to the board of the U.S.-Russia Investment Fund. President Kim Dae-jung awarded Secretary Ross a medal for helping South Korea during its financial crisis and, in November 2014, the Emperor of Japan awarded him the Order of the Rising Sun, Gold and Silver Star.
As a philanthropist, Secretary Ross has served as Chairman of the Japan Society, Trustee of the Brookings Institution and Chairman of its Economic Studies Council, International Counsel Member of the Musée des Arts Décoratifs in Paris, Trustee of the Blenheim Foundation, President of the American Friends of the Rene Magritte Museum in Brussels and Director of the Palm Beach Civic Association.  He also was an Advisory Board Member of Yale University School of Management.
Secretary Ross is a graduate of Yale University and Harvard Business School (with distinction). He and his wife Hilary Geary Ross have four children, Jessica Ross, Amanda Ross, Ted Geary and Jack Geary.

U.S. Secretary of Transportation 

Secretary Elaine Chao is currently the U.S. Secretary of Transportation. This is her second cabinet position. She served as U.S. Secretary of Labor from 2001 to January 2009, and is the first Asian American woman to be appointed to the President's cabinet in American history.
Secretary Chao comes to the U.S. Department of Transportation with extensive experience in the transportation sector. Early in her career, she specialized in transportation financing in the private sector. She began her executive career in public service working on transportation issues at the White House. She then served as Deputy Maritime Administrator, U. S. Department of Transportation; Chairman of the Federal Maritime Commission; and, Deputy Secretary of the U.S. Department of Transportation. As U.S. Secretary of Transportation, she is a strong advocate for safety, and the importance of infrastructure and innovation in our nation's economic competitiveness and growth.
Secretary Chao has a distinguished career in the public, private, and nonprofit sectors. An immigrant who arrived in America at the age of eight speaking no English, she received her citizenship at the age of 19. Her experience transitioning to a new country has motivated her to devote most of her professional life to ensuring that everyone has the opportunity to build better lives for themselves and their families. As U.S. Secretary of Labor, she focused on increasing the competitiveness of America's workforce in a global economy, promoted job training, and set new records in workplace safety and health.
Prior to the Department of Labor, Secretary Chao was President and Chief Executive Officer of United Way of America, where she restored public trust and confidence in one of America's premier institutions of private charitable giving, after it had been tarnished by financial mismanagement and abuse. Secretary Chao also served as Director of the Peace Corps, where she established the first programs in the Baltic nations and the newly independent states of the former Soviet Union.
Secretary Chao earned her MBA from the Harvard Business School and an economics degree from Mount Holyoke College. Honored for her extensive record of accomplishments and public service, she is the recipient of 37 honorary doctorate degrees.
Secretary Chao is a resident of Jefferson County, Kentucky. Prior to her appointment as Secretary of Transportation, she was a Distinguished Fellow at Hudson Institute. She is the eldest of six daughters born to Dr. James S.C. Chao and the late Mrs. Ruth Mulan Chu Chao.